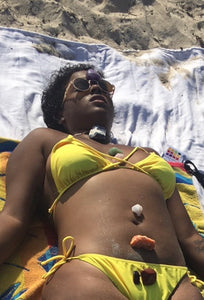 Schedule Appointment
Crystal Healing is the art of using Crystals and Gemstones to heal and balance our energy and physical body. 
In our Crystal Healing session I use my pendulum, intuition, and energy to scan your body and auric field to feel for any depletion, blockage, or an excessive amount of energy. I then use my own energy along with the corresponding Crystal to guide the energy in a more beneficial direction. 
Crystal Healing Benefits: Crystal Healing is amazing for those who experience any type of physical, mental, and spiritual pain, such as headaches, confusion, fogginess, tiredness, and more. Crystals involved are used to help balance, heighten, and heal your vibrational and energetic frequency. 
*All sessions are done remotely but if you're in NY and choose to have an in-person session please review and purchase the traveling fee option. After you purchase we will schedule a date and time that works best for the both of us, thank you!