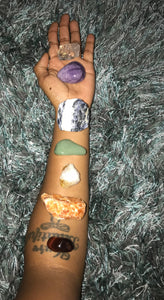 A Chakra cleanse and balancing session are very beneficial to your energetic and physical well being. During our session, I am guided by my energy to determine which Chakras are out of balance and which need the most attention first. I then use my energy and tools to scan your body and auric field to drive out any stagnant or dull energy, creating a more balanced state.
With Chakra healing, I can pick up on childhood traumas, visions, sensations, and sometimes scents and noises. After our session, I will discuss with you what downloads I received and ways to care for your energy. I will also include a tailored meditation and affirmations in which I intuitively design for you. 
Chakra Healing helps with immediate relief of tension headaches, fogginess, backaches and pain, muscle spasm, and more. Be advised you may feel an energy shift almost immediately or a few days after. 
Some clients may experience feeling light-headed, nausea, dizziness, fatigue, and mood swings which may last a day or two after your session. 
*All sessions are done remotely or in person. If you choose to do it in person, you can choose to see me at Hands if Earth Energy in Homestead if I may come to you. Sessions in which I travel to you, requires a travel fee.  After your purchase, we will schedule a date and time that works best for both of us.