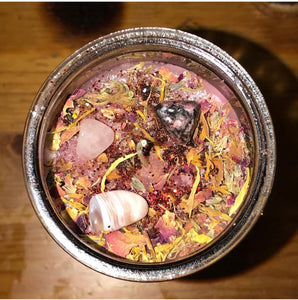 Our Love Thyself Manifestation Candle will shower you with self-love and confidence. Bring forth a whole new perspective as you burn this candle and cater to your most inner needs and desires. Our Love Thyself Candle also comes with 2-3 Crystals known to bring forth love, and confidence. 
Burn this candle with a written petition to yourself, dressed with a splash of our Love Me Oil. If you're looking to really connect and enhance to your energy within; burn while taking a soothing bath with our Love Me Herbal Bath, and a few drops of our Love Me Oil added. 
Crystals Shown:
Rose Quartz: love, harmony and calming 
Rhodonite: compassion, self-love, and forgiveness 
Botswana Pink Agate: universal love and unconditional love
Crystals used may vary in size per batch. 
aria-live="assertive" role="alert" aria-hidden="true" >Adding product to your cart